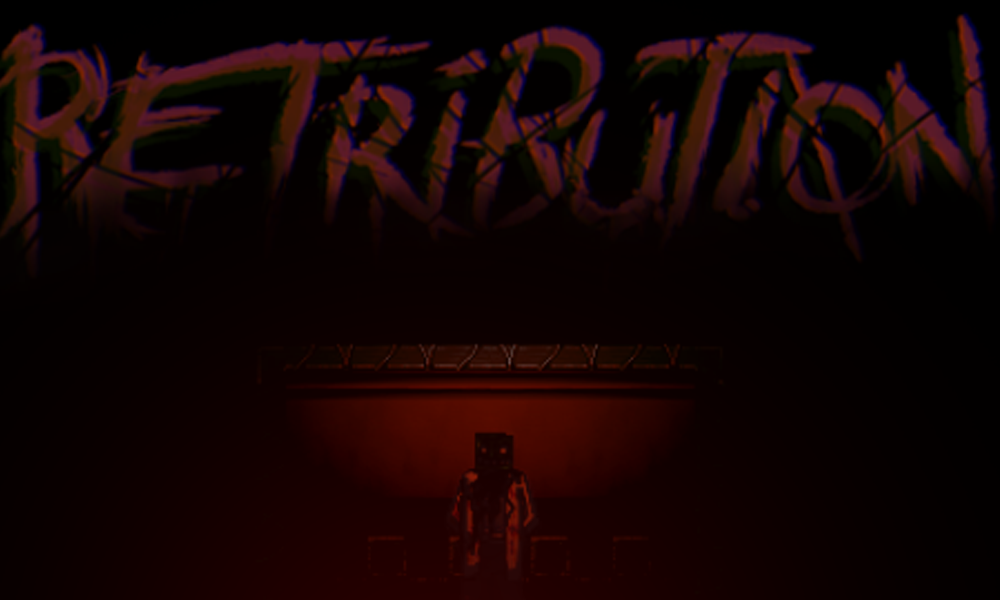 RETRIBUTION
A downloadable game for Windows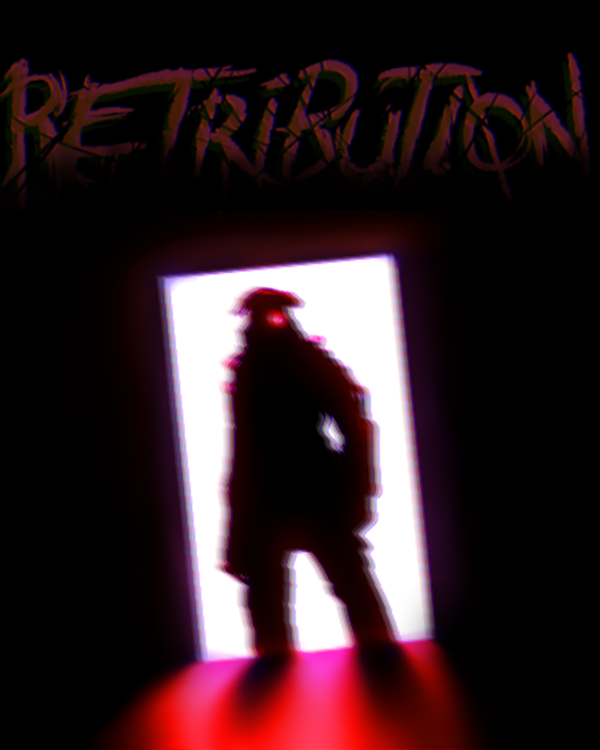 "The game contains blood, sudden surprise, flashy images, gores and scenes that some players may find disturbing."
"When human's ignorance has pushed "them" on the edge of extinction. Their hatred eventually becomes a dark shadow haunts humanity. When we cross the line, "they" will cross the line."
This is an old RPG Maker horror game that I made back in 2017. It tells the story of a group of students was on a field trip to Northville Wildlife Sanctuary, where they encountered weird creatures with human figures and they attacked the students.
The protagonist is a zoologist who came along with the group, After the attack, he found himself awake in a room that appears to be located inside the wildlife sanctuary. He now has to survive and save the others from these "thing".
Trailer:
Author's note:
Unfortunately, the game only has Vietnamese version, as this is my first RPG maker horror game I made and I didn't consider to make an English version back then. But now I feel like I want to show this on my page so everyone will know where did I start making video games. So if you still want to play this and don't mind with no english at all, you can download the game and play it!
Keep in mind that the game is extremely flawed, there are lots of bugs and many problems with the game that I didn't know until now. So feel free to give opinions!
Enjoy the game!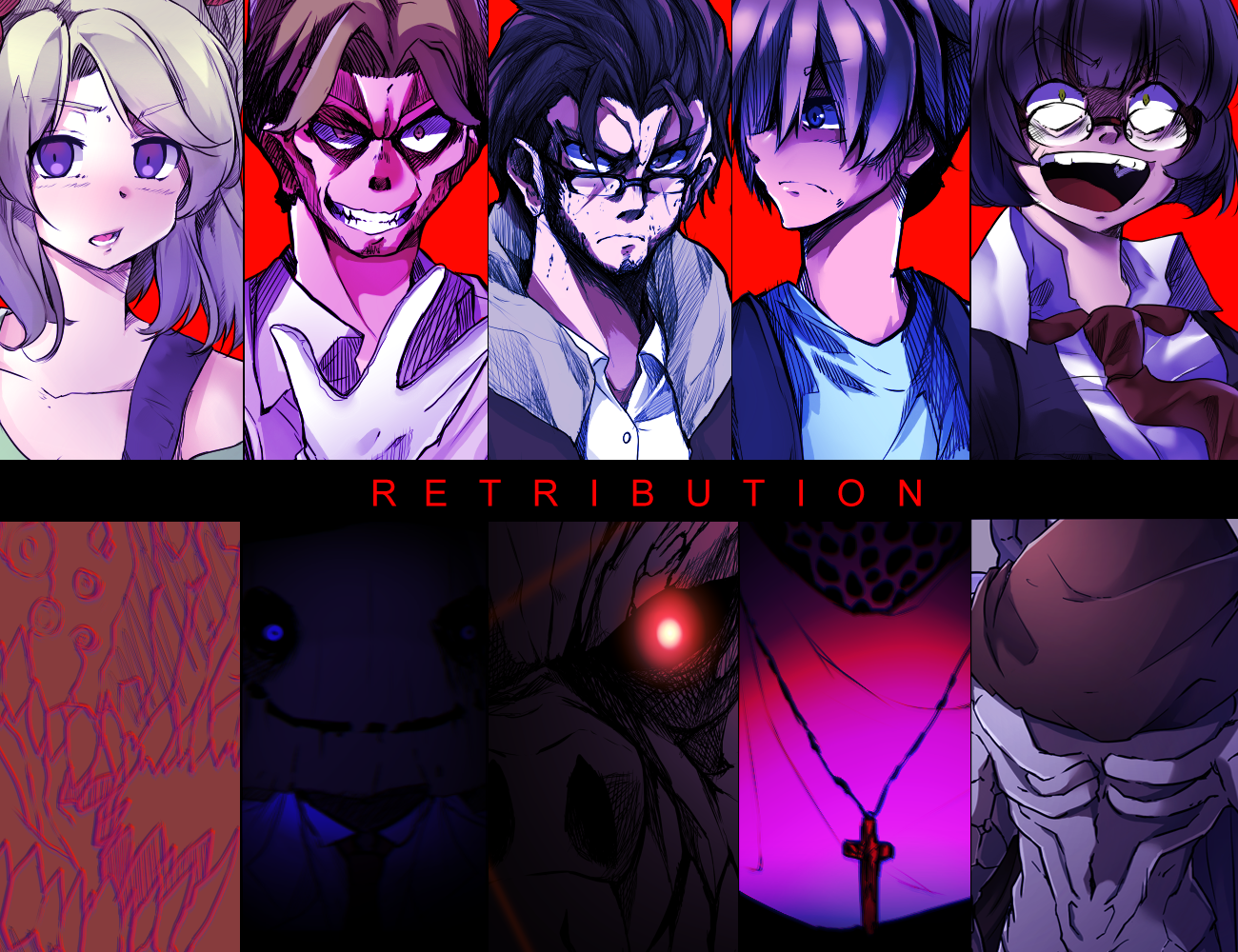 Download
Click download now to get access to the following files:
RETRIBUTION - VIETNAMESE VERSION.rar
105 MB
Comments
Log in with itch.io to leave a comment.
Are you planning on translating the game to english any time in the future?
I thought about this a while ago, so yes, there will be a translated version of this game in the near future.
After 2 weeks of playing the game, I finally beat the game! Took me long enough, since the translation was pretty hard, but I managed to finish the game and understand the basic premise of the story.
The plot is really interesting, though I'm still a bit confused about the story of Eddie and how his past connected to Xavier's backstories. Other than that, everything about the plot, the history in the game is very well done in my opinion. The whole brain transplant project is kinda scary, Terry's motivation in general is understandable, Richard is Xavier's grandson is a great twist. I love how everything in the game connects. Overall, the plot is excellent.
Puzzles are fun, but sometimes it can be frustrated.
My only complaint about the game is the monsters. Sometimes they are very cheap in my opinion and the more I played, the less scary they are.
Kinda sad that the game doesn't have an English version, if somehow the game gets a remake or at least a translation, it would be very neat.
I really like the game and will look forward for your next projects!
Wow! That's amazing! Thank you for playing the game! I'm so happy that you understand the plot pretty well!
This game is pretty awesome! I tried to play it and I did struggle a lot tbh but it was worth it, 1h after playing I realized the dude has a lamp oil that he can use xD the puzzles/ passwords are pretty interesting and I did struggle with the first one but once I figured out how it work it was easy. Ngl, the monsters were pretty frustrating to avoid, they do show out of nowhere and they're really annoying sometimes to avoid and I did stuck plenty of times trying to escape from them. It's really pretty challenging and fun, I love the stories/backgrounds although it was pretty hard translating them sometimes. I did reach a point where Edwin is chasing me and I gotta solve those MCQ but once I solved them and spoke to Moira, I tried to follow her but Edwin showed again and I can't sprint forward or backward because he kills me either way and now I'm stuck there xD but I am really enjoying this game!
Yo! I didn't expect you to go that far. You are about to finish the game! That's insane.
I'm actually surprised that you made it this far. If this is true, you've passed the hardest part of the game, since the first half of Retribution contains sections like prison and underground lab, which have two most difficult monster chase level in the game, and you beat them all!!
I replayed the game a couple of days ago and admittedly, the way I design these monsters and levels back then were pretty weird. Sometimes it feels very cheap for the sake of being horror in my opinion.
About the part where you stuck, you just have to keep running forward, don't go back, Edwin won't catch you. XD
Ikr, I was surprised I managed to get this far. It's really interesting and the plot seems only to be thickening xD it was worth it trying to understand the story tho the translation wasn't really accurate sometimes but I managed to understand what's important. I did manage to escape from Edwin after a few tries, I had to keep my fingers on enter, shift and up arrow at the same time. However I guess I'm stuck again because after talking with the mysterious figure in the library, I explored around and got a stone (I guess) but like now I have no idea what I have to do so I'm trying to figure out.
The stone you mentioned is probably the "đầu sư tử", am I right? If that's case, near the top-left corner of the map, there is a room where you can get a "mảnh ghép thứ nhất" on a statue. After that, place the "đầu sư tử" stone on the statue.
If there's anything you're curious about the game, feel free to ask ;) I'm really happy that you're managed to play the game and get this far XD
I currently just have "viên đá" (which I thought it's the stone, according to the translation) in my inventory and something else "dây cột". And at this point, I don't know what I have to do, I managed to get puzzle no.1 from the statue but the path got blocked so I had to return it.
Oh ok.
The stone that you've collected is one of 4 stones that you have to collect in order to open a big door in the church. And the "dây cột" is actually a "dây cót" - a mainstring that you can use it in the clock that is in the save room. Use it and the clock will stop tickling and a "đầu sư tử" stone will drop.
Wow, the artwork seems really nice. Though I don't understand Vietnamese so I can't really play it. But it looks cool nonetheless
Thank you! Maybe one day I will try to make an English version of the game. But it's a BIG maybe.